Hello SHS families!
This message is intended for all families that drop off children at SHS in the morning.
Our morning drop-off procedures help us reduce cars on Pleasant View Avenue and keep students safe. Unfortunately, we are noticing a number of families who are not following our drop-off procedures and creating unnecessary safety issues. If you are dropping a student off, parents are required to stay in the right lane, take a right turn near the tennis courts, go around the building, and drop off their child near the gym. Students may NOT be dropped off prior to the tennis courts.
We understand that each family has unique challenges each morning. For the safety of our students, please follow these procedures. Smithfield Police will continue to monitor the situation over the next few weeks. Thank you for your cooperation.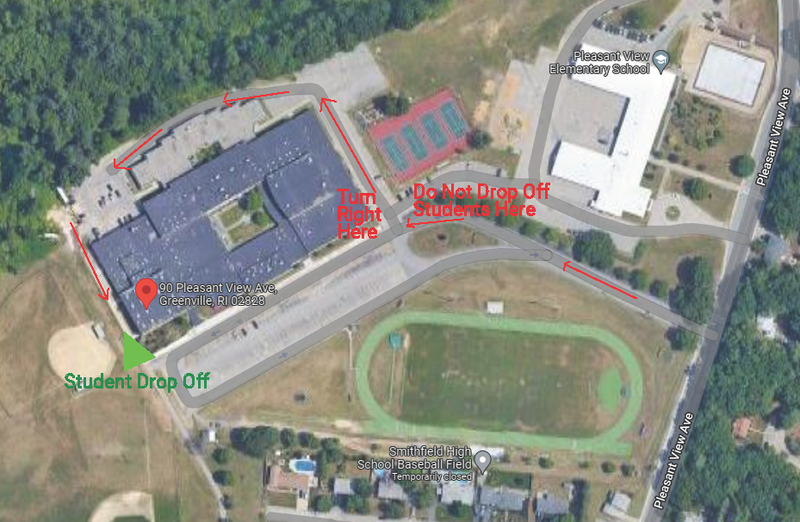 Parent Drop-Off Procedures
SHS doors open at 7 am

Parents dropping off students in the morning will take a right turn at the tennis courts and proceed around the back of the building.

Parents will drop off students at the corner of the building (See red triangle on the map.) Students will walk to door #1. PLEASE DO NOT ALLOW STUDENTS TO EXIT CARS BEHIND THE BUILDING!

Parents will exit via the access road along the baseball field. Please make a right-hand turn onto PVA.

Student drivers will enter the lot and park as usual.

Please watch this video for additional information.